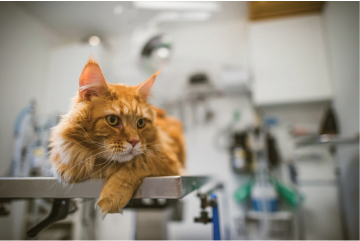 At Kirby Veterinary Hospital we perform a variety of surgical services for dogs and cats. From spaying/neutering to more complex surgeries our focus is on patient safety, pain management, and employing the most current surgical practices to provide your pet with the best care.
New patients are always seen by one of our Doctors prior to admission. This allows us to meet our new patient, complete a comprehensive physical examination and review the surgical procedure with you. Existing patients who are coming in for a surgical procedure may also be seen by the Doctor prior to admission, if we have not recently seen your pet.
We understand that it can be stressful when your pet needs to have a surgical procedure. We take careful precautions to ensure the best outcomes for our patients. Prior to surgery we perform a physical examination and have the ability to run pre-anesthetic blood work in-house. Most of our surgical cases receive an iv catheter prior to anesthesia. During surgery we monitor your pet's vital signs with monitors and maintain stable body temperature with a circulating warm water blanket on our surgical table. Our trained technical staff are constantly monitoring your pet throughout their procedure.
In the post-operative period following surgery we continue to monitor our patients until full recovery. We will contact you to let you know that your pet's surgery is finished and they are awake from anesthesia. We will prescribe any necessary antibiotics and pain medications that are necessary for your pets' postoperative care.
Your pet will have a dedicated discharge appointment where our surgical technicians will review your postoperative care and medication instructions. If any questions arise once you return home, or at any other time during the postoperative period, please call us. We welcome your questions and will work with you to help your pet recover fully.
We understand that surgery can be a source of anxiety and stress for many pet owners. You may have questions about pre-operative testing, anesthesia or surgical monitoring. Let us address your concerns. Whether your pet needs minor surgery or a more complex procedure, call us to discuss how our surgical services can help.
Surgical Services
Spays and Neuters
Tumor/mass removal
Cystotomy (to remove Bladder stones)
Abdominal surgery (exploratory laparotomy, GI foreign body removal, splenectomy, GDV/Bloat)
Reproductive surgery (Surgical AI, caesarian section)
Some orthopedic and eye procedures
*For some advanced surgical cases we refer to a Veterinarian who specializes in surgery.